This is the Home Page of the Obermeyer family. We solicit your prayers as we battle serious health problems on several fronts.
Click HERE to read our Christmas Card to all of you.

Click

to see who we are. Please Sign Our GUEST BOOK

View Old GUEST BOOK Entries

Obermeyer Family Section-----------*
Cranial arteritis, also known as granulomatous arteritis, temporal arteritis and giant cell arteritis, is an inflammation of the wall of the arteries. It is probably due to a disordered immune reaction. As the name implies, it most commonly involves arteries in the head and can lead to serious consequences if the artery becomes blocked. The most common serious result is permanent blindness in an eye because of obstruction of its blood supply. Fortunately, this complication can be prevented in most instances by the use of steroid, anti-inflammatory medications such as prednisone.
Cranial arteritis may lead to vague symptoms of muscle aches, fever, decreased appetite and unusual fatigue. It is most common in persons over the age of 60. Diagnosis is difficult and confirmation requires biopsy of one or more segments of one of the superficial arteries (near the surface of the skin), particularly the temporal artery. It's crucial for the physician to be alert to this rather uncommon problem because early testing, diagnosis and treatment can prevent complications.
My mother, Ruth, has been battling this ailment for several years and recently suffered a mild stroke (actually called a stroked artery) which has left her blind in her left eye and nearly blind in her right eye. She is being treated with Prednisone. She may have contracted it due to a case of shingles she suffered. Unfortunately, for all this time, the doctors thought she had arthritis, and were treating her for the wrong disease.

Mother had a very thorough eye exam and laser surgery in Tucson by Dr. Barry Kusman. He pioneered laser technology in Arizona in regard to cataract surgery. He felt that the cataract surgery would be very successful, restoring her vision in her right eye to 20/30. The surgery took approximately 8 minutes, and she was awake throughout the surgery. Results have not been as good as we had hoped.
Latest Update
-------------------------------------------
Update on April 27, 2002:

Mother may have suffered a mild stroke, but tests have shown nothing conclusive. She is undergoing tests at a hospital in Denton. More news as it becomes available. So far, doctors have been unable to determine the cause of this latest downturn in her health.
Update on April 28, 2002:

I talked to Phyllis this morning at the hospital. Doctors do not think she had a stroke; there is no evidence of one unless it was too mild to show up in tests. Mother is not on Oxygen any longer (her Oxygen level in her blood was low, so they had her on Oxygen last night). Still no causes determined for her weakness and feeling bad. They may do an MRI and other tests. They may put her in physical therapy since she hasn't been getting any exercise. They will keep her another day or two and send her home. Update on April 29, 2002:

I asked Heidi about some of the tests and what they might be looking for. Heidi is a Registered Nurse working in the cardiac center at one of the major hospitals in Wichita, so she is pretty familiar with this sort of situation. She said her unit could probably do all that is needed if we could get Mother up here. Anyway, here is what she sent me:

An MRA is a Magnetic Resonance Angiogram. They were looking for any blockages that would be potential stroke causers. The MRI is Magnetic Resonance Imaging and would be looking for evidence of stroke probably (or other brain changes etc.). Update on April 30, 2002:

Doctors now believe she had a stroke. More information will be posted pending results of tests and further examination. Update on May 1, 2002:

Mother is going to a rehab/skilled nursing facility in Plano. The Dr thinks this will help her get some strength back. She is still too weak to stay alone. Phyllis will take her tomorrow afternoon. We don't know if it will be a few days or longer. Not sure. Mother is ok, still weak but seems pretty good. She did have a stroke, however mild, I don't really know. No other conclusive test results other than they seem to think that a little bit may be due to not enough potassium and a little bit to the fact that she is 87. Update on May 2, 2002:

Treatment is having a very positive effect. Mother is able to sit in a chair and get up by herself, is carrying on conversations with her roommate and with visitors, and is looking better than she has in months. She starts physical therapy tomorrow. Update on May 23, 2002:

Mother is now back home recuperating and doing very well. No further plans have been made except to provide daily care.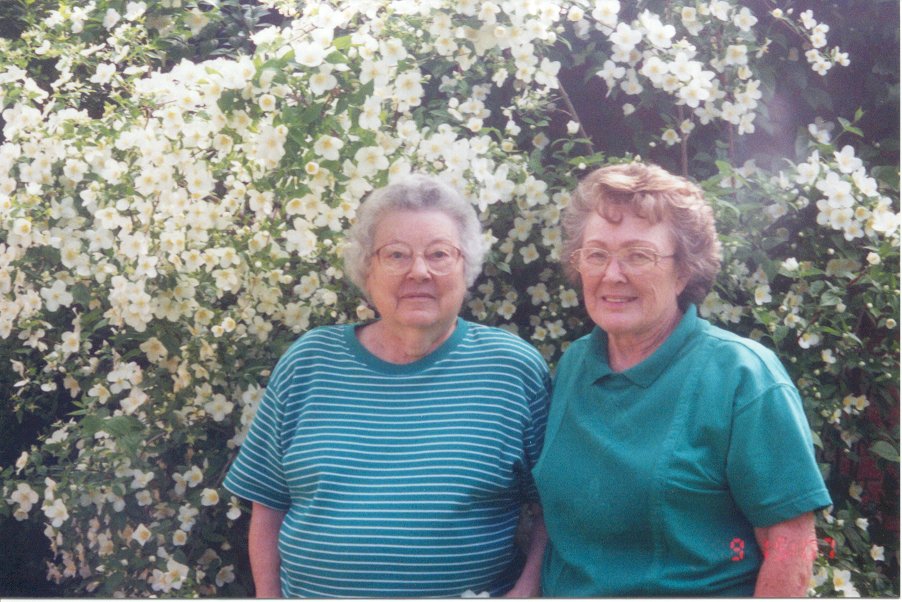 Ruth and her friend Melba Welch
---
Click HERE to read the very moving and informative speech given at Heidi's graduation ceremony by Toni Thress, RNC, MSN. She gives the history of the pinning ceremony. She also makes you proud to be a nurse if you are one, or if not she will almost make you want to be one!
---
(from Heidi)
In case you were wondering what I do for a living....read my job description
Registered Nurse
---
(from Kevin & Angel)
Lauren has begun taking horseback riding lessons and loves it (she's nuts about horses!). She's a little shaky about going too fast, and she's too small to reach the stirrups, but after just two lessons she can steer the horse around and through a line of barrels (that is, if she can get the horse going; she really can't kick hard enough to make the horse blink, but with a little coaxing...). We hope to put some pictures up soon.
Joshua's basketball picture for 1999-2000
(jersey is reversible, red and blue)
Joshua is about to start up basketball again and hopefully sometime soon (funds pending) even a few horse riding lessons as well. Both of the kids are doing fine. Lauren has started Pre-K, and Joshua is in 2nd grade. Incidentally, Kevin will be coaching Joshua's team this year. This will be our second year in Upward Basketball, a Christian league through Metropolitan Baptist Church in Wichita. However, this year they have a branch in Derby at First Christian Church, so it will be a lot closer for us.
I (Kevin) got to help out with PromiseKeepers this year. I went to the September one in Oklahoma City with the guys in my Bible study group. That Friday afternoon we first spent some time visiting the Oklahoma City Memorial for the Murrah Building. That was very touching. I think the hardest part was seeing the chairs. For each person killed in the bombing, there's a chair arranged by building floor on which the person died. Then you notice that 19 of the chairs are tiny chairs, one for each of the children. Man, that's hard. It makes me teary-eyed just to picture it again. I would encourage all of you to visit the Memorial if you can. In my opinion, the design is genius, freezing time to that exact minute, etc. If you visit it, you'll understand what I mean.
Anyway, PromiseKeepers. They were needing volunteers to help with different aspects of the program, such as prayer counselors, security, food distribution, offering collection, and ushering. Well, being the willing and dedicated person that I am (no comments, Angel), I did it all! It was really a great time. I got to meet a number of the "big wigs" behind PromiseKeepers, and I learned a lot about what kind of work goes into such a thing, knowledge I hope to apply later with my own ministry work. And I did get to hear the speakers as well.
Incidentally, the special music was provided by Mark Schultz. Mark is a youth pastor who wrote a now popular song you may recognize called "He's My Son." It's about a family in his church whose son has cancer, and the words are the prayers of those parents crying out to God, "Can you hear me? Am I getting through tonight?" etc. Anyway, Mark performed this song, after which he gave an update about that boy (I don't remember what his name was). Mark said the boy was 14 when he wrote that song, and now at 16 he is in TOTAL REMISSION! Praise God! Now I can listen to the song again (it tore me up too much to listen).
ekeinon dei auxanein, eme de elatousthai. John 3:30
(my favorite verse in Greek transliteration)
---
---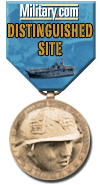 USS Putnam (DD-757) Home Page
-- Link to the Destroyer on which Hershel Flowers served during World War II.
These links to the Korean War Project Home Page and the 45th Division are placed here as a tribute to Hershel Flowers and to the distinguished Guardsmen with whom he served during the Korean conflict: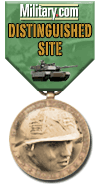 Korean War Project Home Page
-- Link to the Korean War Project Home Page.
45th Division Home Page
-- Link to the 45th Division with which Hershel Flowers served during the Korean conflict.
179th Infantry Regiment (Heavy Mortars) Page
-- Link to the Heavy Mortar Company with which Hershel Flowers served during the Korean conflict.
---
Flowers Family Update:

Other Flowers family members were affected by the record sized tornados in the Oklahoma City area in 1999. Please pray for them as they deal with recovery.
---
The father of one of our cousins in the Oklahoma City area battled diabetes for several years. Please pray for the family as they deal with the loss of this loved one. The final report is as follows:

-------------------------------------------
Update on December 26, 2000:

My beloved father, Coy Ferguson, passed away on Thursday, December 21 at 4:08 p.m. at the age of 68. He is now in his heavenly home and at peace. I was with him when he died, and his passing was very peaceful.

(Daily Oklahoman, Saturday, December 23, 2000, Obituary)
FERGUSON, Coy D., 68, landscape nursery owner, died Thursday. Services 2:30 p.m. Tuesday, St. Andrew's United Methodist Church (Vondel L. Smith & Son South).

Poem written by Adam Flowers to his mother, Linda, following the death of his grandfather, Coy Ferguson
Please pray for us as we grieve the loss of this special man.


Here is a URL for a diabetic memorial web site that I submitted a memorial for my dad. I still miss him so much.






Here is a link to the "Ordinary Woman/Extraordinary God" Christian women's web site I enjoy so much.



Love,
Linda
-------------------------------------------

Linda's son Adam is attending the University of Oklahoma and is the webmaster for his fraternity. He has also been elected to an office in the fraternity. Here is a link to their Kappa Alpha Order, Beta Eta Chapter Home page.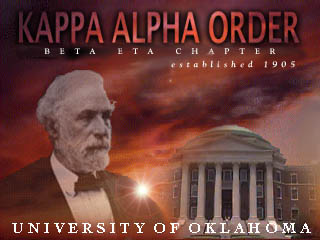 ---
---
This section is placed here without editorial comment regarding the bombing of the Alfred P. Murrah Federal Building in Oklahoma City on April 19, 1995 or any matter related to it. It is here as information only for anyone interested in knowing about the memorial itself. A plaque has been added at the Oklahoma City memorial stating that Timothy McVeigh was executed on June 11, 2001. McVeigh was put to death by lethal injection at the federal penitentiary in Terre Haute, Indiana. He was pronounced dead at 8:14 am ET. He issued a written statement but did not speak any final words from the death chamber.

Acknowledgement: Photos were provided by Peggy Greene. Information about the memorial and the brochure were provided by Linda Flowers, and scanning of the brochure was provided by Linda Flowers and Adam Flowers.

(Added February 9, 2001 after receiving email from a new friend) "Shortly after the bombing, my brother-in-law started a non-profit organization to help the kids injured in the blast and those who lost parents cope with the event. I've put together a website for the Kids, We Care, Inc. organization. Just thought you might like to see some of the good that has come out of that horrible day.

Until recently, I worked at Globe Color Press, just two blocks away from the Memorial. I printed that brochure you have displayed on your site. John Northcutt"

These are photos of the newly opened Alfred P. Murrah Federal Building National Memorial in Oklahoma City. The building was destroyed by a bomb on April 19, 1995 (my mother's birthday). The memorial sits on the location where the Murrah building was at the time of the bombing. Sidewalks are constructed of granite stone from the building. Each of the glowing chairs in the Field of Empty Chairs bears the name of one of the persons killed in the bombing. They are arranged in nine rows, representing the nine floors, and each chair is arranged according to the floor where the victim worked or was visiting at the time of the explosion. Five chairs sit alone at the West end for the people killed outside the building. No two chairs are exactly alike to show that each person was an individual. A large patio, The Alfred P. Murrah Plaza and Memorial Overlook, behind the chairs was used as an area to eat lunch or visit and also contained the playground for the daycare center. It now bears the shield of each of the agencies formerly housed in the building.

A portion of the fence used to keep people out during rescue and eventual implosion still stands on the West side and still contains personal memorabilia placed there by or on behalf of mourners from all over the world. The street that ran in front of the building is now a Reflecting Pool. At the East and West entrances to the memorial stand two Gates of Time. The East entrance is a portal bearing the time 9:01, one minute before the explosion, then the Reflecting Pool, then a portal on the West bearing the time 9:03. The building across the Reflecting Pool from the Field of Empty Chairs was a newspaper building, The Journal Record, and will serve as a museum after it is refurbished. A lone tree, called The Survivor Tree, stood in front of the building and withstood the blast. It is thriving again, now surrounded by the Rescuer's Orchard (fruit bearing and flowering trees). Churches nearby were almost destroyed but have been repaired and offer a place for prayer for visitors.

Here are a few additional comments and links to the photos themselves. The titles to the pictures pretty much describe what each picture is:

1) "Facing east at sunrise"is standing at the 9:03 gate, looking toward the East at sunrise and shows the survivor tree on the left, the Field of Empty Chairs on the right, the 9:01 gate, and in the background on the left, the tall white building is the YMCA where there was another day care center (several injuries but no fatalities), and on the right is the Methodist church that suffered heavy damage.
2) "From 250 feet above" shows the Reflecting Pool, the two Gates of Time and the chairs on the right.
3) "Thunderstorm looking Southeast" just shows the chairs at night with lightning. This is taken from the North side looking South.
4)"Thunderstorm looking West" is taken from the Southeast corner of the Memorial looking to the Northwest. To the right is the Journal Record building which has become the Museum and was opened to the public on February 19, 2001, and straight back is the Regency Tower Apartments which were also heavily damaged.
5) "Glowing" is a picture of the Field of Empty Chairs taken almost in the middle of the chairs. Again, the Journal Record building (now the Museum) is to the left, and the tall white building in the back is the YMCA.
6) "Jesus at sunset" is taken on the West end outside the Memorial. This statute is at the Catholic Church across the street from the entrance at the West end. The Gate of Time in the photo is the 9:03 one.
Here is a copy of the brochure which is available at the memorial. It was scanned in four parts.
"Memorial Brochure Part 1"
"Memorial Brochure Part 2"
"Memorial Brochure Part 3"
"Memorial Brochure Part 4"
Additional photos of the bombing and the aftermath recently added.
"Photo of the Murrah Federal Building before the bombing"
"Photo of the destruction inside the Journal Record Building after the bombing"
"Photo of the Murrah Federal Building after the bombing"
"Photo of the emergency operations after the bombing"
Feel free to share these and this information with anyone.
---
The Oklahoma City National Memorial Center was opened to the public by President George W. Bush on Monday, February 19, 2001. It is housed in the west end of the former Journal Record Building which sustained severe damage by the bomb. There were also fatalities in the building. The building has been restored and serves as an interactive learning museum.

The building was built in 1923 and is on the National Register of Historic Places. The whole national memorial site is a must see for everyone. I highly recommend everyone make an effort to visit Oklahoma City and see this Memorial and visit the museum. It is an intense experience, one which will bring tears to the eyes of even the strongest person. The Memorial is especially breathtaking at night; however, the museum is not open after 6:00 P.M.

"Museum Brochure Part 1"
"Museum Brochure Part 2"
"Museum Brochure Part 3"
"Museum Brochure Part 4"
---
---
If you are just browsing, there will eventually be a great deal of interesting information at this site, not just family health updates. Right now, though, that has to be the priority.
---
If you are interested in having a web site of your own for family, business, or whatever, try these links to my other home pages.

My E-Commerce Site

My Various Business Sites


---
Did you know you can send money online with X.com's PayPal service?
X.com's PayPal lets users send and receive money online. Use PayPal to split restaurant tabs, collect club dues, pay friends for movie tickets, or buy an item at an online auction. PayPal charges the money to your credit card or bank account. It's faster, safer and easier than mailing a check.
As soon as you sign up and verify your account, PayPal will automatically add $5 to your balance!
Once you've tried it, you'll want to use PayPal, but if not, you can transfer the money to your bank account at any time. No strings attached. Click on this link to sign up and see for yourself:
After signing up, you'll get an email to send to your friends and family. PayPal will give you $5 for each friend you refer. It's that easy!
---

---
Need a Device Driver? Try DriverGuide.com
---
Grab Your Surfboard
This section will eventually contain links to other sites we think you would enjoy. Try these for a start:

EC-47 Stuff
-- Starting point for those who enjoy the history of the EC-47 (the plane I flew in Southeast Asia in 1972-'73).
Bruce at Ubon, Thailand, 1973
Isaiah 40:31
---
Reunion Patch

---
Visit the DFC Society at

Link to DFC Society
-- Dedicated to those veterans who have been awarded the Distinguished Flying Cross.
---
Link to "Ask Physician" about Cranial Arteritis
-- Explanation of the disease and some of its causes.
Misc Links for Visually Impaired
-- Starting point for those who need information to help the visually impaired.
---
Eric Fookes' highly acclaimed "Note Tab"(R) text editor sites. Please check them out and download a copy. I am now using it to edit and upload my web pages. With the clip library, it's a snap.



Visit the Note Tab(R) Site or fill out the order form HERE



When you visit the site, please review the other fine products like Mail Bag Assistant and Album Express.


---
To Contact Us
---
Society of Professional Engineering Employees in Aerospace
SPEEA
---
Today's edition of WorldNetDaily
---
Useful Stuff
Please do not flood me with junk mail, solicitations, or pornographic messages. If you are interested in a simple utility I wrote to convert words to phone numbers, drop me a note or click on one of these links. Click this phone number to find out what 1-800-CALLMOM converts to.
Are you into Global Positioning Satellites (GPS) and Julian dates? Would you like to know what day of the week October 26, 2010 is? Try the year 2525 (remember the song?). Can you convert degrees to radians and vice versa? Can you compute power attenuation and amplification in dB? Can you convert from decimal to octal or to hexadecimal and vice versa? How about temperature (F to C and vice versa)? What about logs and natural logs? Try these Simple Utilities. I will add more as I find the need. Send me some ideas.
---
---


Please consider helping raise money for the campaign by becoming an affiliate FREE
---
I am an editor at HOTRATE.COM , a new Web search engine that has developed self-teaching technology in order to provide better search results. HOTRATE.COM pays You for reviewing websites, and for finding other people who want to become editors or reviewers at HOTRATE.COM. If you have a favorite web site that you would like to add to HOTRATE.COM, or if you are interested in earning some extra cash, please register at HOTRATE.COM.

Click on this banner and submit your site for review and/or become an editor yourself.

*** Please email me if you see the "OpaObie" Banner on other sites ***
I saw your banner at: